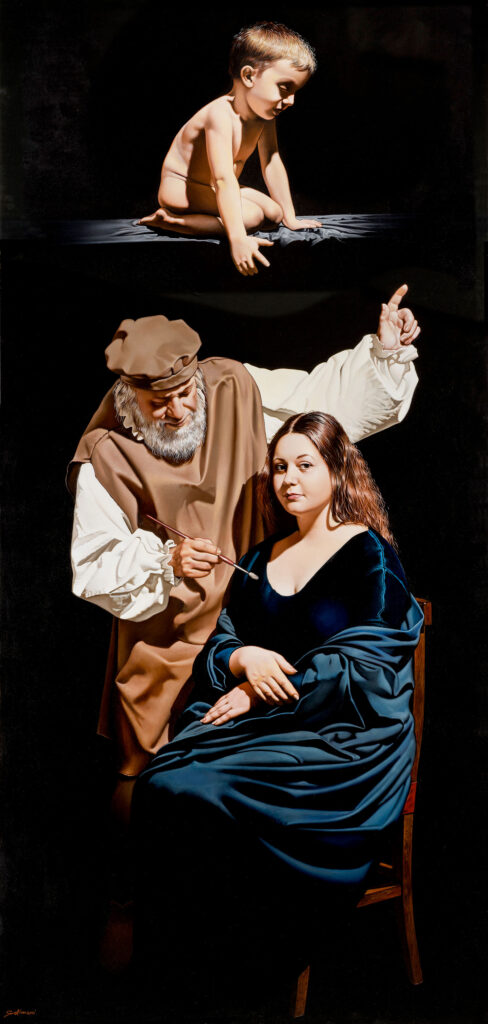 THE PROJECT
Leonardo project was born from the dream of its founders, Parida Thetkunchorn and Patrizio Stefani, to export italian culinary and artistic excellence to Bangkok. From the initial intention of opening a luxury restaurant, then stopped by the pandemic and subsequently by a serious illness of the founder Parida, an exclusive collaboration begins with Master Stefano Solimani to reproduce his pictorial artworks in the form of Non Fungible Token (NFT). Hence the idea of creating something totally new that would give new hope to Parida: LEONARDO, no longer just a restaurant, but also a physical and virtual art gallery, accessible only through exclusive NFT membership generated by two artworks that the Master created especially for us.
Leonardo will be the first italian NFT restaurant in Asia and the first in the world to be also a physical and virtual art gallery based on NFT, members will have unlimited access to the lounge bar and art gallery while reservations is required for the restaurant.
Our goal is to create an exclusive community that brings together artists, collectors and art lovers through the organization of physical and virtual events, and that members, owners of our Passes, can actively participate in the life of Leonardo by perceiving 10% of corporate earnings and expressing their opinions and preferences so that they can offer a better service over time.
RESERVATION AND ENTRY POLICY
Once you have a Leonardo NFT subscription you will need to access the www.leonardoprojectnft.com website and create a personal account. Those who do not have the token will not have a chance to reserve.
There will be no transaction fees to make a reservation, however members will need to have access to the wallet where their NFT membership is stored to verify ownership.
Members will need to connect their Hot Wallet to verify ownership of the NFT before each reservation being made online through their personal account (it will be implemented as the site is updated). You will access a grid chart where you can choose the day, lunch and/ or dinner, time and number of guests.
In case guests exceed the allowed number, an additional token will be required, until the necessary number is reached, in this case it should be specified on the notes so that you find the tables ready and the exact number of seats.
The member who owns the token used for the reservation must be present, therefore his guests may not be seated until the NFT holder arrives.
You will get more information when we will get closer to the restaurant's opening! (Expected in the first half of 2024)
ROAD MAP
Due to the complexity of the project the dates may change, we recommend checking our SOCIAL CHANNELS for the news.
| | SILVER 130 MATIC | GOLD 2200 MATIC |
| --- | --- | --- |
| Lounge bar and Art gallery access | Yes +1 Guest | Yes +3 Guests |
| Restaurant access (Reservation Required) | Yes +1 Guest | Yes +3 Guests |
| Free appetizers menu (max 1 per day for token holder) | No | Yes |
| Possibility of advance reservation at exclusive physical and virtual events | No | Yes |
| Early access to NFT drops and limited edition products | No | Yes |
| 10% discount for the owner of the Pass in the local, for the purchase of artworks, NFT and on our e-commerce | Yes | Yes |
| Right to free monthly Airdrop (random extraction) of NFT artworks made available by artists | Yes | Yes |
| Free Airdrop of the Leonardo payment token (10% of the token value) | Yes | Yes |
| 10% redistribution of corporate earnings* | Yes | Yes |
| Free access to an automatic Tool on our Discord server to create a Smart Contract** | Yes | Yes |
| Free display of your NFT artwork on our Gallery screens*** | No | Yes |
Membership purchase is for adults only and is made with MATIC cryptocurrency.
IMPORTANT Each item related to the Leonardo payment Token will be calculated from the moment the Token is issued. For members who do not use the accumulated Token, it will be possible to convert it to Bitcoin and credit it to their Wallet. (information will be added)
*(10% of the earnings in our Leonardo payment Token on every payment made with the Token itself, excluding expenses)
**(upon request and after preliminary check possibility of inserting the artistic collection generated within our virtual art gallery)
***(valid only once, for one week, upon reservation and after prior inspection)